STAR: Sculpture, Marine Ecology and Commercial Fishing Collide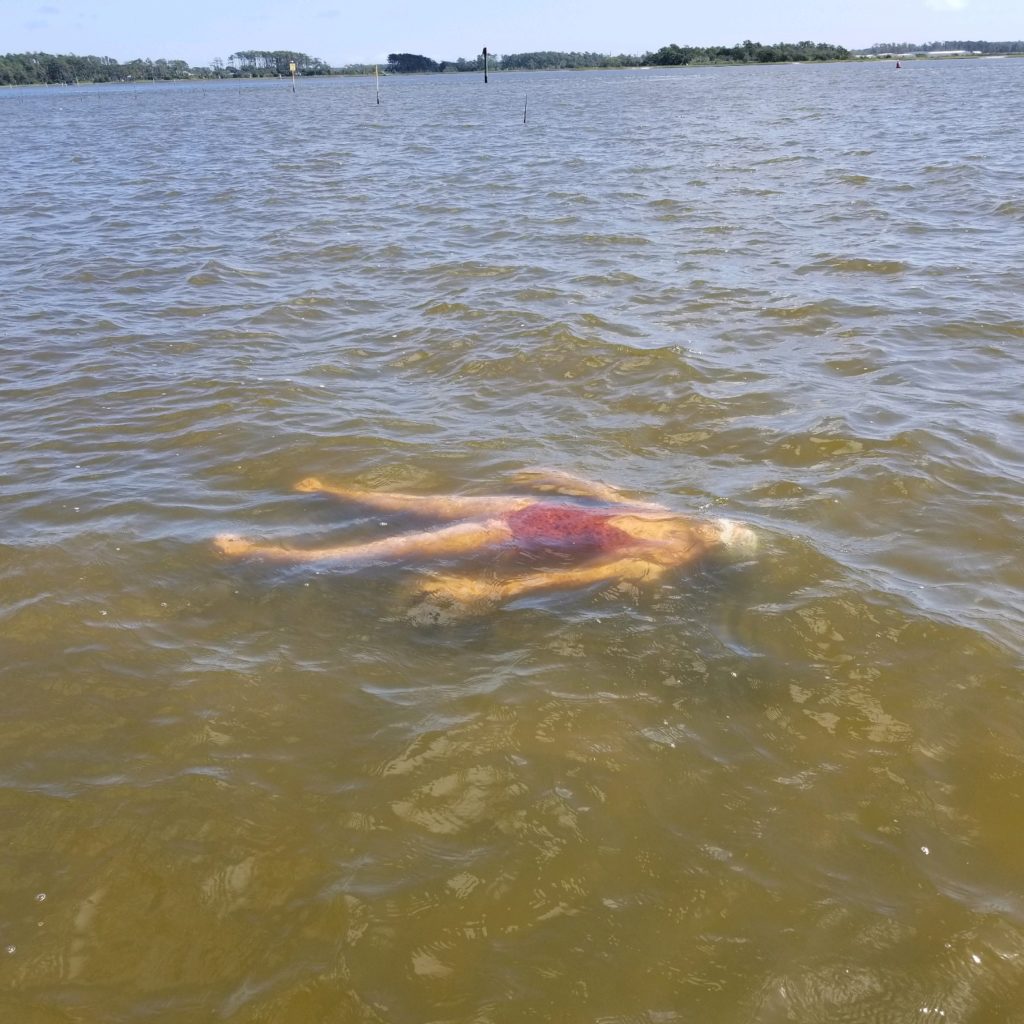 "Star" is what happens when Dr. Niels Lindquist, a marine ecologist, and Clammerhead (David) Cessna, an oysterman, develop a proprietary biodegradable hardscape that Carolyn Henne, a sculptor, adapts to make sculpture to then be deployed for aquaculture on an intertidal sandbar in the Newport River, North Carolina.
"Star" is a test section for a much larger installation, "Sea Stars".  Star is a lonely synchronized swimmer installed on Sandbar Oyster Company's  lease, The Spa, on 9/25/20.  Though she lacks fellow performers, she is executing an important role as we prepare for the late Spring 2021 installation of "Sea Stars" with 15 swimmers and a giant octopus. They will occupy approximately a 100' by 100' area in The Spa. Eventually these colorful sculptures will become oyster reefs much like the intertidal oyster reefs that Sandbar Oyster Company builds with Sandbar's Oyster Catcher™,  a uniquely successful substrate for attracting wild native oyster larvae.
Online tax-deductible donations to the Sea Stars and future projects 
Follow Sea Stars's progress from installation of the sculpture to oyster reef.
Collaborators
Dr. Niels Lindquist
Marine Ecologist UNC Institute of Marine Sciences and Sandbar Oyster Co
Clammerhead (David) Cessna
Commercial Fisherman, Sandbar Oyster Co
Carolyn Henne
Sculptor, Florida State University
How the Collaboration Began
This new direction in artistic research and production stems from the participation by Henne and Lindquist as their universities' representatives in a symposium, Bridging Chasms, in which eight scholars from across the ACC were selected as a new addition to the Annual ACCelerate Creativity and Innovation Festival at the Smithsonian Museum of American History in Washington, DC in April 2019. The festival, programmed by Virginia Tech's Institute for Creativity, Arts, and Technology and the Museum's Lemelson Center for the Study of Invention and Innovation, was a three-day celebration of creative exploration and research at the nexus of science, engineering, arts, and design. For the symposium portion of this festival, each participant presented on some essential elements and crucial details of their discipline. The idea of using Sandbar's Oyster Catcher™ for sculpture sprung from Lindquist's and Henne's between-session discussions at the Bridging Chasms event. This sculptural work is a departure for Henne in the sense of venue, but it is similar in that this is a collaborative, sculpture-based, site-specific installation. The major difference is that it is designed to degrade and succumb to the oysters and the elements.
About the Spa and Visiting
The Spa is in a very busy area where it is a featured site on The North Carolina Oyster Trail. Eco-tours through Captain Monty at Seavisions Charters in Beaufort, North Carolina are regularly available. Additionally, it is directly below Beaufort Airport's flight approach. We will be documenting this project's progress here. Contact me if you would like to be notified as news is posted.